There are some amazing speakers scheduled for the Salt Lake Design Week opening PechaKucha event on October 14th. We couldn't be more proud that our very own former AIGA board member, Dallas Graham, is going to be presenting. Dallas created Red Fred Bodoni and The Jolly Troop 5 years ago and has been telling stories with them ever since. Dallas has produced a number of personal and community driven projects and initiatives (like Beehive Braintree) and can't seem to turn off his "idea" switch. His newest endeavor is truly inspiring, The Red Fred Project, a culmination of three of his favorite things: narratives, hope and children. He plans to co-author 50 books by 50 critically-ill children in 50 states. To help achieve this, Dallas has created a Kickstarter campaign which is about to head into its final 48 hours. We asked Dallas a few questions about the project and he was more than delighted to answer.
First thing, tell us a little about yourself. Oh, I'd much rather hear about you. Seriously. But for the sake of this being an interview, I'll say this: I'm taller than average, I eat hummus like most people drink water, I was involved as programming director for AIGA SLC for a few years, I CANNOT turn my "idea switch" off, I don't really sleep, I enjoy the Farmer's Market like I do Christmas, and I'm still trying to figure THINGS out. Oh! And I really, really like birds.
You've been involved with the local chapter of AIGA, you're also the mind behind Beehive Braintree and now the Red Fred Project, it's clear you have a passion for community and outreach. What got you interested in these things? The quickest and simplest (and most honest) answer is this: I love having a good time doing good things with good people. When I'm surrounded by smart, engaging, idea-driven, silly and compassionate people, my spark for ingenuity and integration is regularly self-inspected. These projects were a natural result of cultivating things I enjoy: ideas, people and beauty.
The Red Fred Project features many characters from your Jolly Troop, including Red Fred. What was your process behind creating the troop? As designers/creatives, we surround ourselves with symbols, type, and imagery all the time (our personalities almost require it). We're constantly trying to find (and create) the shortest distance between an idea and a value. So, the process of making Red Fred was "natural" in that sense. That being said, when Red Fred Bodoni flew into my mind, I wasn't "designing" something at that moment—I was simply doing things I enjoyed: looking at the magnificent Wasatch mountain range in the early hours of a farmer's-market Saturday, getting ready for yoga.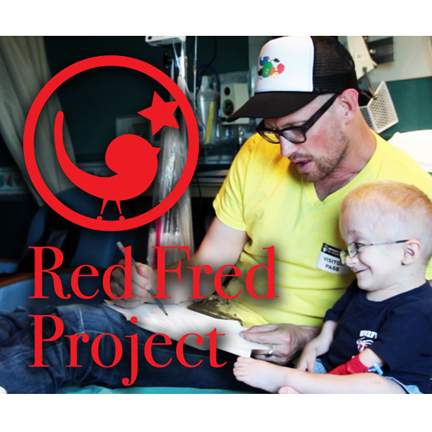 What does the Red Fred Project mean to you? I have been telling stories with The Jolly Troop for years, in the form of a blog. That time has allowed me to better understand the nuts and bolts of short-story making. In December of 2012, my younger sister called me one night to tell me some disheartening news: a childhood friend of ours had a son with Duchenne muscular dystrophy. He was only ten and his heart was failing. The family had been very brave and transparent and were sharing this incredible chapter of there day-to-day life via social media. I remember crying with my sister on the phone as we asked each other the same questions that we always ask when we hear about these types of journeys: what can we do for him? What can we do for them? What can we possibly do? As I thought about our true intentions that night, it was as if Red Fred silently flew into my darkened studio area and sat on my shoulder and whispered into my ear: We want to make a book with him.
What was it like for you to push the Red Fred Project into fruition? I experienced something I hadn't before: I watched, as did thousands of others, as this little boy's star left us and went shooting into the night. When Mitchell passed away, a very bright ball of intention started rumbling in my center and I decided, without equivocation, that this idea—this project—needed to happen. My eyes, my heart, my skills—everything became very sharp because I suddenly realized exactly what we wanted to do: tell children's stories. And since that moment, there is very clear purpose to what I'm about and how people can assist. It's been heart-wrenching at times because, like our creative Nathan, I watch and hear how his bones break and there is nothing I can do about it. So I want to help him make something—something that stems directly from his imagination. I want him to know he made something that hundreds of people care about and read from. I want his life to inspire other children and teach them significant things. What is it like, pushing the project into fruition? I think it's like floating in a red, cosmic air balloon through a marshmallow-clouded sky.
The first book released as part of the Red Fred Project is Climbing with Tigers written by Nathan Glad and yourself. How did you go about choosing Nathan as the first creative of your project? Do you know what is fun about answering this question? More or less, through AIGA! My dear friend, Shannon Markham (who served on the board with me while I was in) replied to my request to my friends when I asked if anyone knew of someone that could help me find a child whose family would allow me to start this with them. Wonderful Shannon sent me her cousin's information. Stephen Stauffer helps run an organization called Angel Hands Foundation. Nathan is apart of that wonderful group of children. After I spoke with Stephen about what I was doing, he said, "I know exactly the boy you need to meet."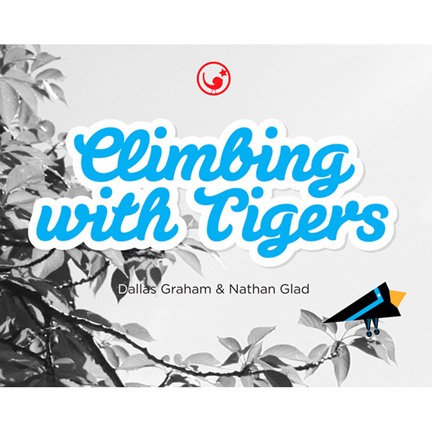 What was the process like working with Nathan? It was a lot of work. For him and for me. Happy, gold-lined work, but still work. Figuring out time frames, how much content to give him, how long visits could be, scheduling with his health appointments, learning to communicate possibly complex ideas with a little boy, editing, formatting the book, making the style guide for all the books, proofing… it all added up to doing what many of us do daily. The only difference is that this book we were creating was an actual opportunity to express something finely nuanced and beautiful. So as you can probably imagine: my desire to stay true to his vision was one of the best "client" experiences I've ever had.
I know you've experienced some amazing moments since the beginning of the Kickstarter campaign, can you share a few of them with us? You're right: there have been many, many beautiful moments. Two that float to the top easily are the book-signing/launch party. It was like watching a star be born. Seeing Nathan sitting in his little wheel chair, eating a frozen, chocolate shake, surrounded by 200 copies of his book and seeing the line of adults and children lined up for his autograph was absolutely stilling. Everyone that was there saw, very clearly, the ripple effects this project was/is going to have. There were no divisions among any of us; only one, single commonality: celebrate this story-making achievement with this boy.
Secondly, when I received a message that three ten year old girls were holding a bake sale and craft bazaar in their neighborhood, with intentions to pledge the entire amount they earned to Kickstarter, I was completely moved. And then I was more moved when I showed up and saw the spread they had produced! They had been cooking, sewing, baking, crafting for a week to prep for their event. When I received the phone call later that night, with Lainey's voice on the opposite side "Dallas, we raised $1,000 and we're going to pledge it all to the Red Fred Project!" I was in tears. How do you hold such goodness? But this isn't going to stop. I can see this happening everywhere we go, with children all over the country.
What can we expect from you and The Red Fred Project in the future? You can expect lots and lots of Facebook posts. I'm kidding (well, kinda; actually, not really). You can expect to be moved, creatively and emotionally. You can expect to be inspired by children. You can expect to question your own processes and ideas and consider them more wonderfully. You can expect to see an incredible library of 50 books by 50 children. And after that is done, you can expect an invitation from me, to you, to get involved by standing up from your studio desk, putting on your back-pack, jumping into your car and driving to a 7 year old's home and sitting with them on the carpet, asking them this question: If you could make a book, for the entire world to read, what would it be about?